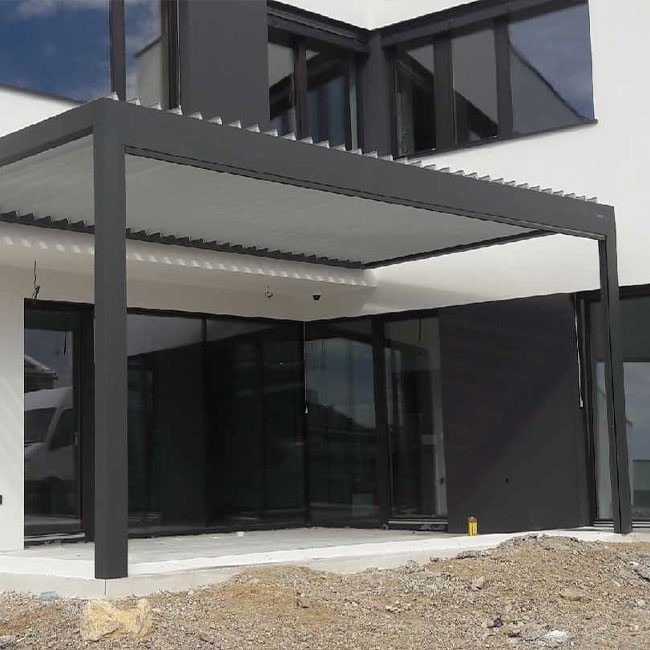 Small 3×3 and 3×4 Pergola Plans and Designs
It's safe to say that there's a variety of different pergola types out there, even if we're speaking about a single module of each pergola (some cases demand several pergola modules attached to each other). While there's some cases of users buying larger pergolas, the smaller ones are still the majority for a lot of customers.
Our examples of smaller pergolas are about two of the typical sizes: pergola 3x3m and pergola 3x4m. Each of those examples are relatively small and would have a much easier time fitting in most of the backyards, even the smallest ones.
Now we'll go over some of the actual examples of these pergolas.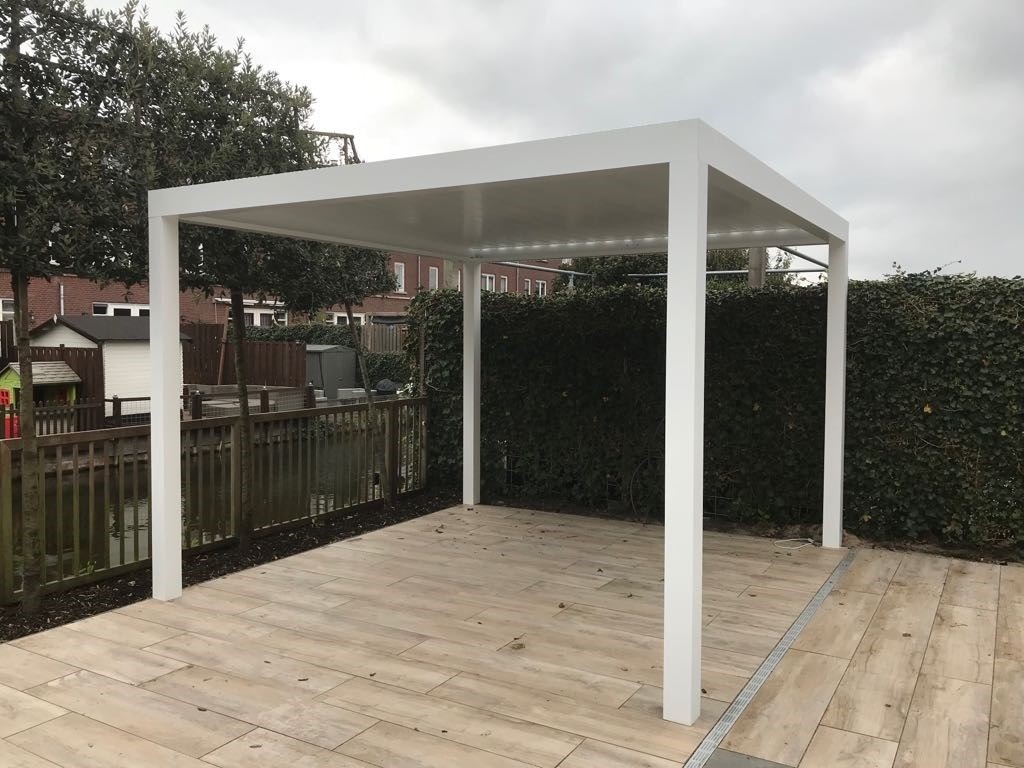 First of all, an example from the Netherlands. A nice small pergola in the backyard of a regular house, with a dedicated flooring underneath it. It can be easily adapted to a variety of purposes, from the tool shed to the outdoor resting and recreational area. And the overall harmony of white pergola colour and white flooring makes for a nice view in general.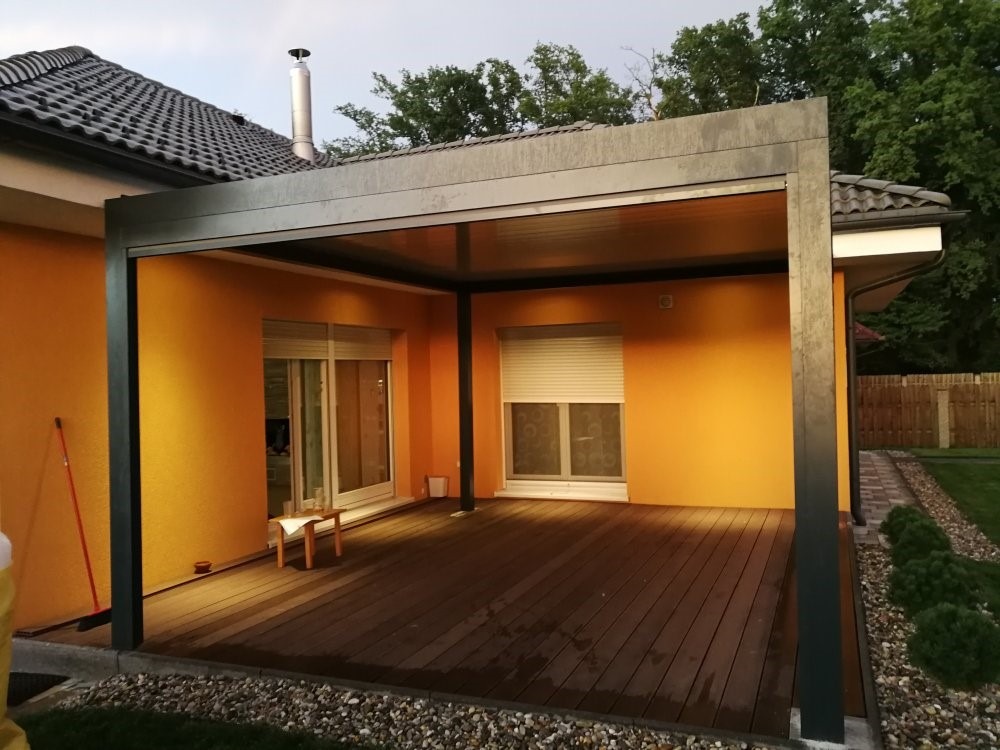 Of course, there's a lot more cases of people not changing the pergola's colour at all, like in this example from Slovenia. The overall small shape of a pergola 3x3m fits perfectly in this house's backyard, expanding the overall living area and ready for a variety of use cases. The pergola's natural colour also fits really well with the house's roof, as well.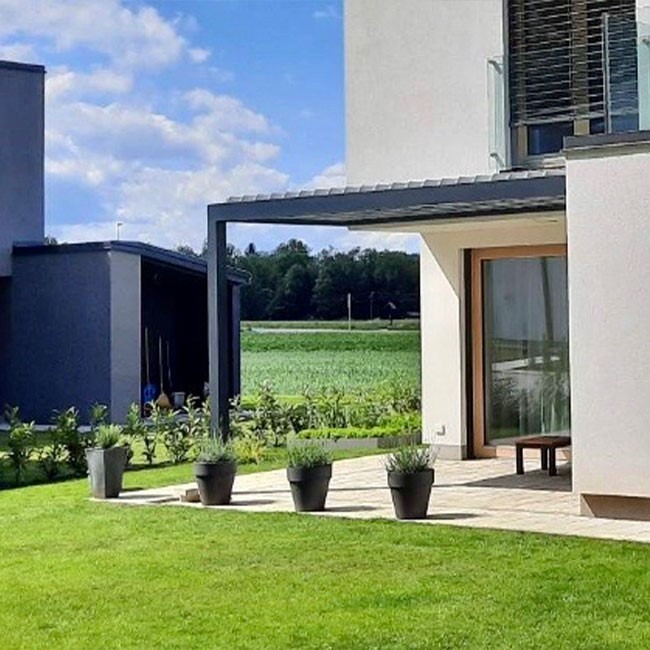 Square 3×3 pergolas are not the only ones we're looking for, either. Here's our first example of a pergola 3 x 4 meter, and this one fits the house's shape really well, too. It stands on a dedicated flooring around the house and makes for a nice little outdoor area that is one step away from your living arrangements.
Speaking of fitting pergolas, here's another example attached to a house in Austria. It's a pergola 3 x 4 once again, and it's a nice addition to this house's irregular shape in general. It also fits nicely with the overall theme of the house, and the flooring under the pergola makes it easier to utilize this structure in any way you want.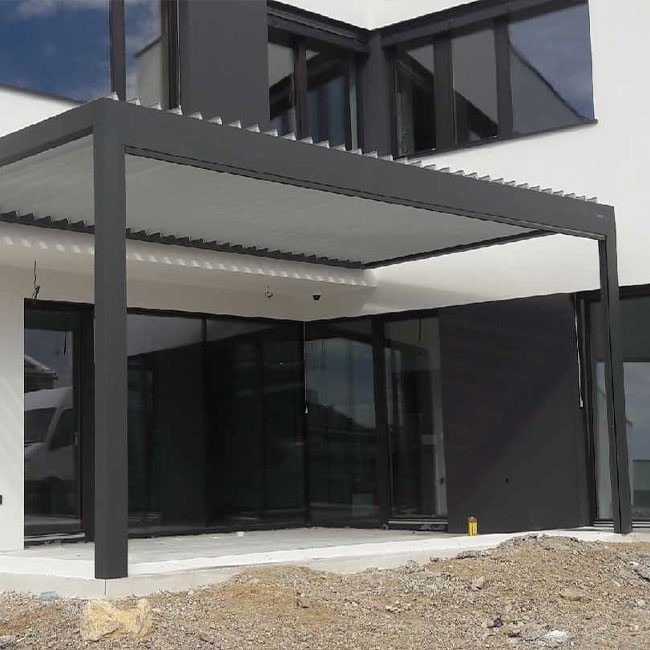 Our last example of pergola 3x4m once again comes from Slovenia. In this case a pergola 3 x 4 meter fits well with the overall black-and-white theme of the house, and the elevated dedicated area under this pergola is quite handy for a lot of purposes, too. In this case a pergola is placed within the basically nonexistent backyard area, which once again proves that it's easy for a pergola Agava to fit in a lot of different areas if needed.
Speaking of pergola Agava, there's also a lot more variation when it comes to the size of these aluminum bioclimatic pergolas. There's three different models in total: model 160, model 170 and model 240, and each of those have different maximum measurements, as well as some other characteristics.
There's also the fact that there's two different sub-models in both model 170 and model 240. In model 170 there's Agava SL 170/28, which goes up to 4 x 7 m in size, and there's Agava SL 170/36, this one is up to 4.5 x 7 m. As for model 240, there's Agava SL 240/36 (4.5 x 8 m) and Agava SL 240/60 (up to 40 m2). Model 160, on the other hand, only features Agava SL 160/28, which goes up to 4 x 6 m per module, and is the only option for this model.