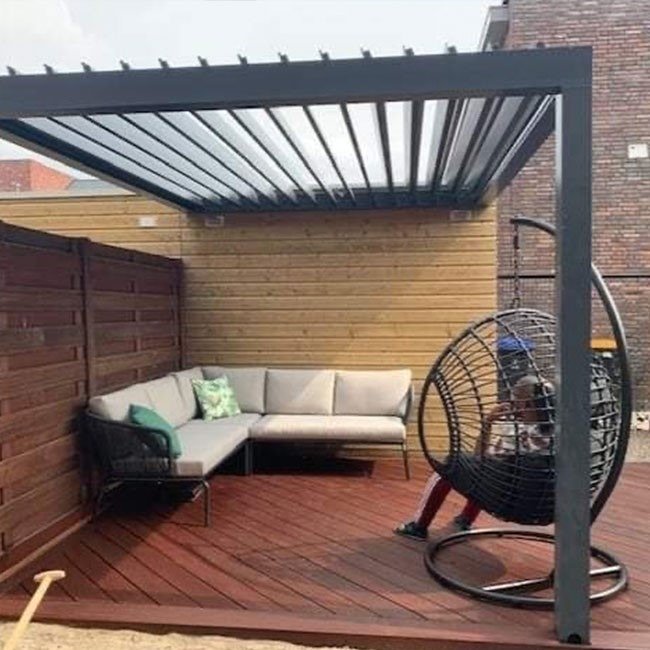 Pergola Designs for Shade
Surprisingly enough, not all of the pergola designs are about creating shade for the people inside of it. Despite the fact that there's a lot of different pergola designs nowadays – shade as a function is often treated like an option, rather than a necessity.
This is the main reason why there's so many ideas and ways to create pergola shade, using different materials, construction techniques and so on. Attempting to take a look at some of those pergola shade ideas is the goal of this article.
First of all, here's a list that includes some of the pergola designs for shade:
Solid roof;
Tension fabric;
Retractable canopy;
Oversized roof;
Roof extension;
Retractable awning;
Retractable fabric;
Fabric walls;
Reed covers;
Bamboo roofs;
Live foliage;
Pergola curtains.
One of the most basic ideas that can create pergola shade cover is for it to have a regular solid roof installed beforehand. There's plenty of materials that can be used as the roof of your pergola, and it's not just wood or aluminum – there's also steel, polycarbonate, and more.
Having a solid roof might not be a viable option for smaller freestanding pergolas, so the tension fabric is another option that can be done to give your pergola some shade. This option is exceptionally useful for simplistic pergolas, since the addition of fabric doesn't ruin the overall style of the structure.
Of course, a static roof from any material might not be the best for everyone, so there's a lot of ways to create a retractable canopy roof, so that you can control the exact extent of the protection from the sun or rain that you want.
A bioclimatic pergola is another type of pergola which features rotating slats on the roof, so that you can control the amount of shade or sun you want or need. The overall simplistic appearance of most of these roofs also makes for a good stylistic choice.
Since the basic version of a pergola is not exactly complicated, there's a lot of variation and inspiration when it comes to custom ways of creating a roof for your pergola. For example, one pergola uses an oversized roof that goes beyond the edges of the pergola's legs, making it an original design choice, at the very least.
When it comes to attached pergolas, there's a popular option that a lot of people take advantage of, called roof extension. In this example it's basically some sort of a canopy over the entire pergola, making it a suitable option to act as an extension of your living area. There's also a variation of this design choice called retractable awning that allows for more versatility when it comes to areas with mixed use cases, like a terrace or something similar.
Getting back to the fabric-based covers, it's also possible to create entire roofs as a pergola shade cover from pieces of retractable fabric, or create entire fabric walls from the same material (see the example below). This design allows for a more interesting choice when it comes for shade appliances, and you can also adjust those fabric pieces however you wish, making the entire feature that much more customizable.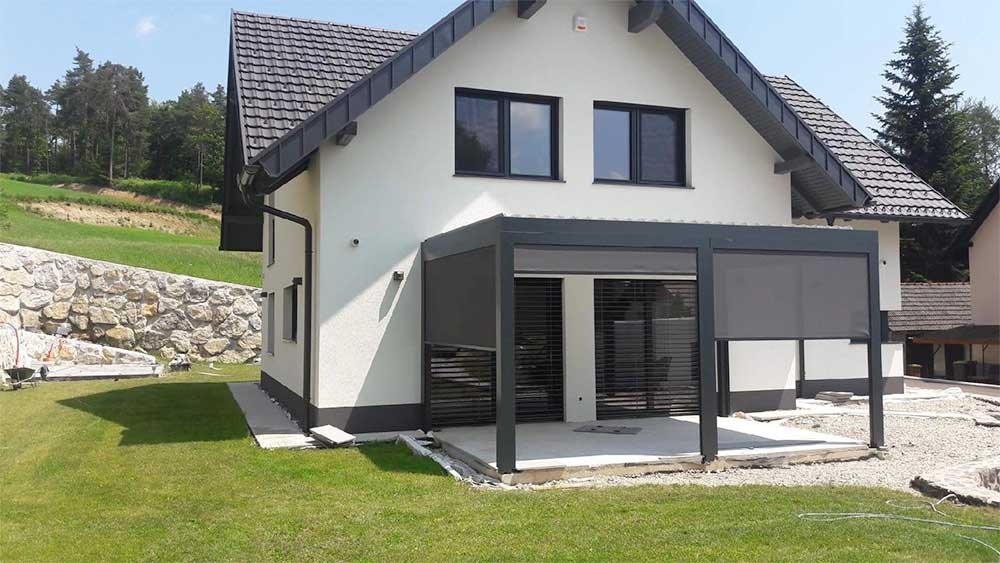 Simplifying the entire concept even more – there's a lot of pergolas that take inspiration from the more traditional structures, using reed or bamboo as a roof material, making reed covers and bamboo roofs, respectively. Reeds were especially popular in the ancient Egypt times, and nowadays it's still a possibility, even though it's more suitable for dry climates with as little rain as possible. Bamboo, on the other hand, is capable of creating a completely new outlook on a pergola roof style, aside from the general protection in sunny days.
Another original variation of pergola shade ideas is an actual live foliage from the plants. There's a plethora of different fast-growing plants out there, like wisteria, grape, climbing rose, etc. The majority of pergolas can be outfitted with proper support for these types of plants to grow and flourish, acting as an actual protection from the sun in given enough time to grow. The example below shows one of the walls outfitted with many wooden planks to support growing plants.
Shade ideas don't necessarily have to be all about the roof of a pergola. For example, another idea in the list of pergola designs for shade is some sort of a pergola curtain to create additional shade from the sides if you're missing a wall there. These curtains are often made of some sort of fabric that can be either thick or thin, so that you have the option that's closest for your tastes and your current needs.
As you can see, there's a plethora of different ideas when it comes to creating shade over a standard pergola, and they vary greatly from the basically prehistoric to modern and unique. There's also another type of pergola roof that can adapt to your circumstances called pergola Agava.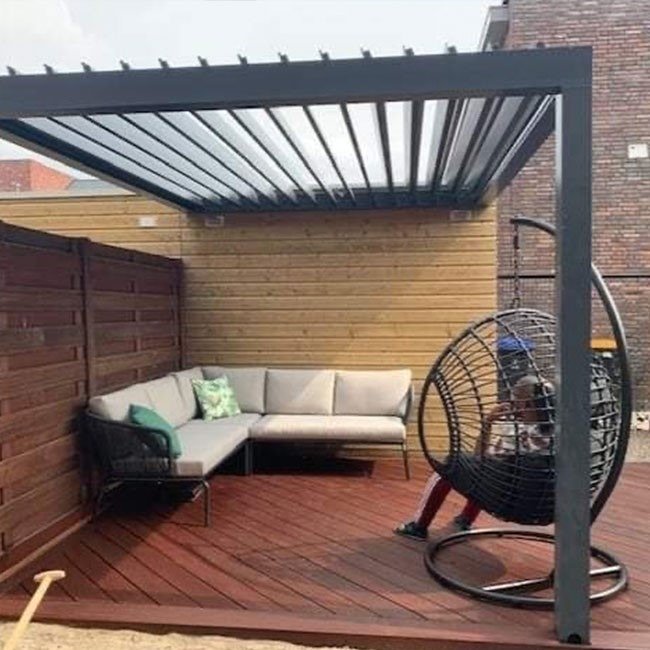 It's a comprehensive piece of technology that can provide you with a solid roof when you need one – and to let the air in from above when you don't need more shade under your pergola.