Iron or Metal Pergolas
Outdoor structures have been relatively popular for a while now, and time shows that they can be easily influenced by the different cultures and traditions. One of the most popular outdoor construction types is called a pergola, and there are a lot of different pergola variations out there, as well, with different styles, different materials, and so on.
Speaking of materials, pergolas can be built using not only wood, but also metal, aluminum, vinyl, and so on. In this article we'll go over the technicalities of aluminum pergolas and metal pergolas, as well as compare them with each other.
Metal or iron pergola
Metal pergolas (the most common cases are either steel pergolas or iron pergolas) are your material of choice if you prefer sturdiness of steel over wood's ability to blend into the environment. Pergolas that are made from metal are much heavier than the majority of pergolas made from other materials – for example, aluminum pergola is about 2.5 times lighter than the metal one with the same measurements.
The compensation for this kind of weight difference is the overwhelming amount of durability that pergola from iron can offer – allowing for much larger structures in general, especially usable for specific types of companies that take advantage of the covered open air space, like restaurants, hotels, etc.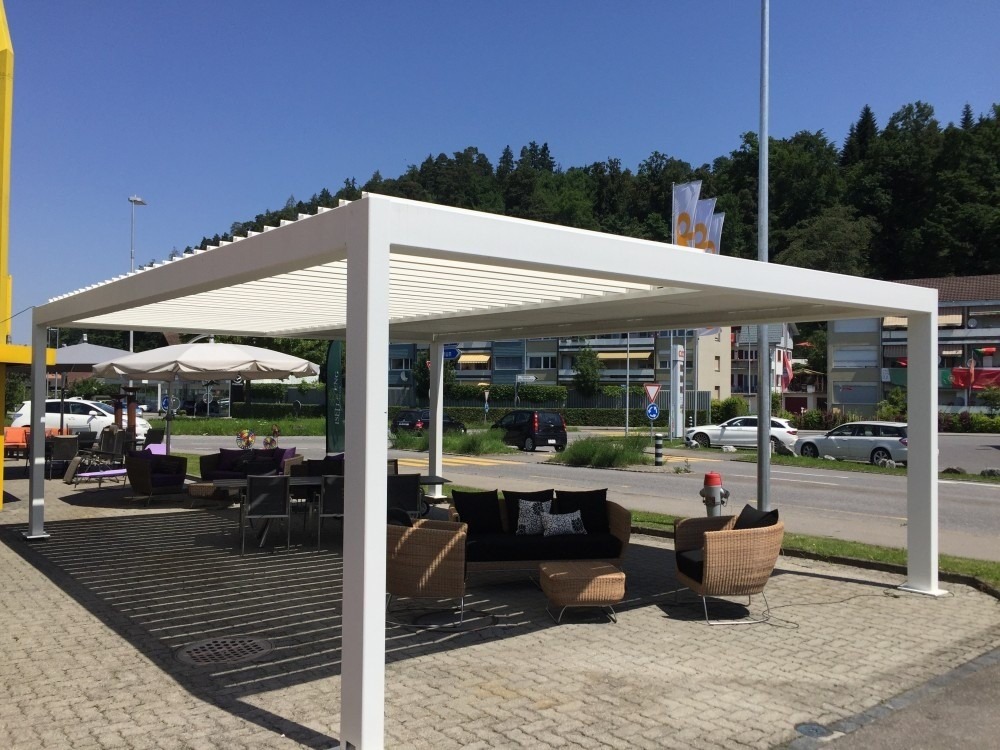 Of course, all of the durability advantages are not exactly free-of-charge, either – usually steel pergolas are covered in some sort of coating to prevent rust or oxidation, and the entire construction needs a significant amount of maintenance operations, like at least a yearly cleaning, with additional checks for loose connections, coating appliance in specific places to prevent corrosion, and so on.
Aluminum pergola
On the other hand, there are aluminum pergolas, which are far more versatile in most cases. The material itself is even lighter than wood, and the amount of maintenance required for aluminum pergolas is miniscule when compared to pergola from metal. Aluminum constructs come with the layer of aluminium oxide that protects the aluminum itself from rust. It's also much easier to use different colors for your aluminum pergola via anodizing, liquid or powder paint.
Aluminum is quite popular in a lot of smaller households, as well, since the overall price and weight of the construction, combined with its modern stylistic look, allows for a great addition to almost any backyard, no matter the context.
Similarities and differences of steel pergola and aluminum one
Summarizing everything from above, there's a number of advantages that pergola from iron can offer:
Extensive durability;
Ability to cover a lot of space at once, creating massive constructions that can't be done with other materials;
The overall weight of pergola from metal is enough for every construction to be sturdy and resistant to different weather factors.
Of course, there are some disadvantages to this pergola material type, as well, including, but not exclusive to:
Regular maintenance is required for the metal to retain its durability in full and avoid corrosion, rust and other harmful effects;
While there are a number of low-cost pergolas from steel and iron, there are also a lot of examples when metal pergolas are much more popular for company clients and less popular for regular clients, because of the costs, the amount of work to keep the structure intact, and so on;
The specific appearance of metal makes it unsuitable for a lot of backyards that aim for more authentic feeling, and steel constructions are bound to stand out in those scenarios.