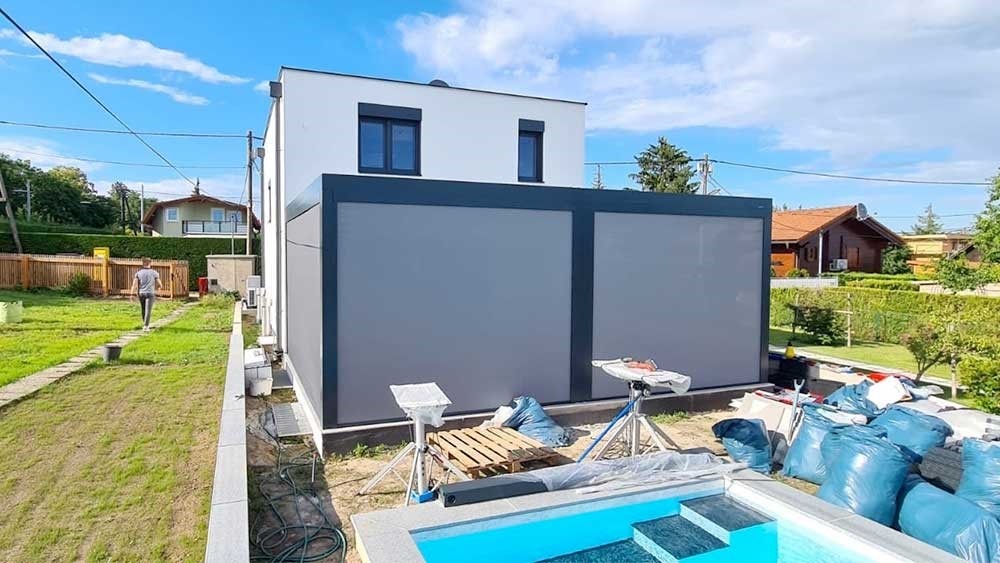 Examples of Grey Pergola and Use Cases
One of the main purposes of a pergola, or any other outdoor backyard construction, is to fit nicely with the overall theme of the house or the backyard to begin with. Of course, there's a lot of different color options available when it comes to pergolas, but the original aluminum color, which can be called "grey", is relatively popular, as well. It helps with setting up the overall modern look for your backyard,, among other things.
To explain it in a bit more detail, we'll go over some of the examples of grey pergolas.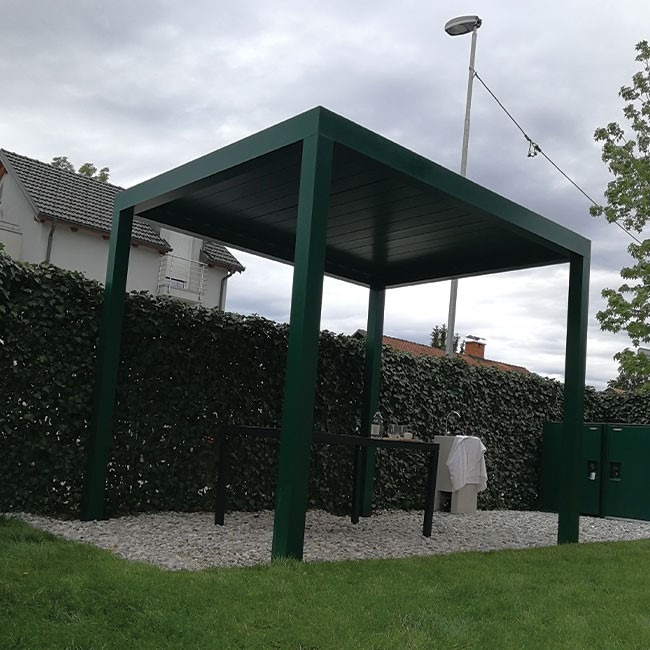 We're starting with a simple example that comes from Ljubljana. It's a small freestanding pergola with no dedicated flooring underneath it. This one is clearly used as a little getaway from the unfavorable weather conditions like rain or something similar, and there's even a table set up underneath the pergola that can be used in a variety of different ways. The general placement of this pergola near a hedge allows for the inhabitants of this pergola to be protected from wind, as well, from at least one side.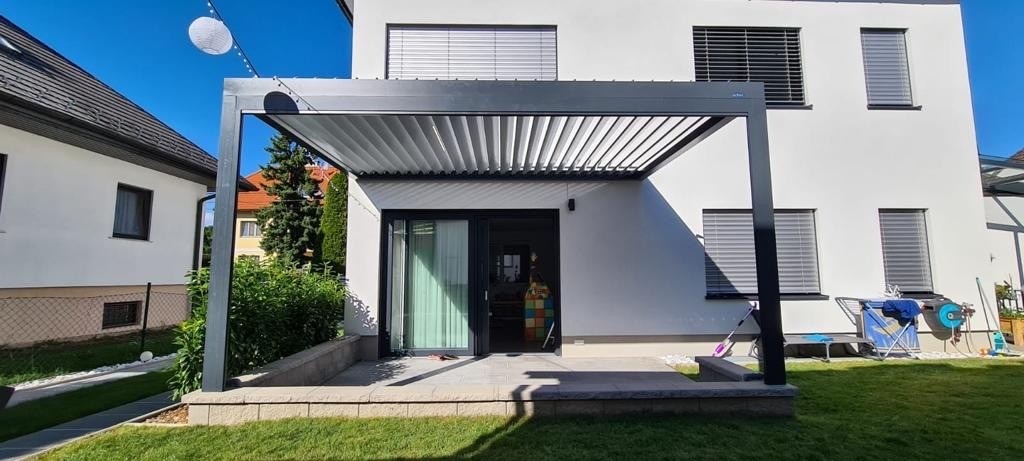 This next pergola from Austria differs slightly from the previous example. For once, this one is attached to a house and has a dedicated flooring underneath the entire area that pergola covers. The natural grey color of a pergola also fits nicely in the environment, contrasting with the almost completely white house it is attached to.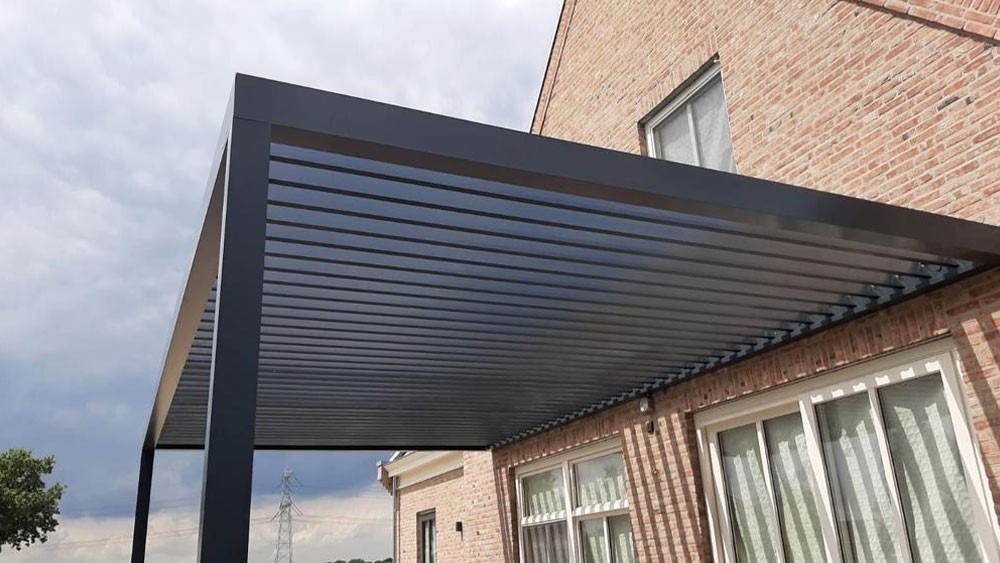 Another example of an attached pergola is in the Netherlands, and this one is not as different as the other two. One thing that's important to mention – this image shows that the basic grey pergola color can also fit quite well with your regular red brick wall, and bricks is what this house is made of in the first place.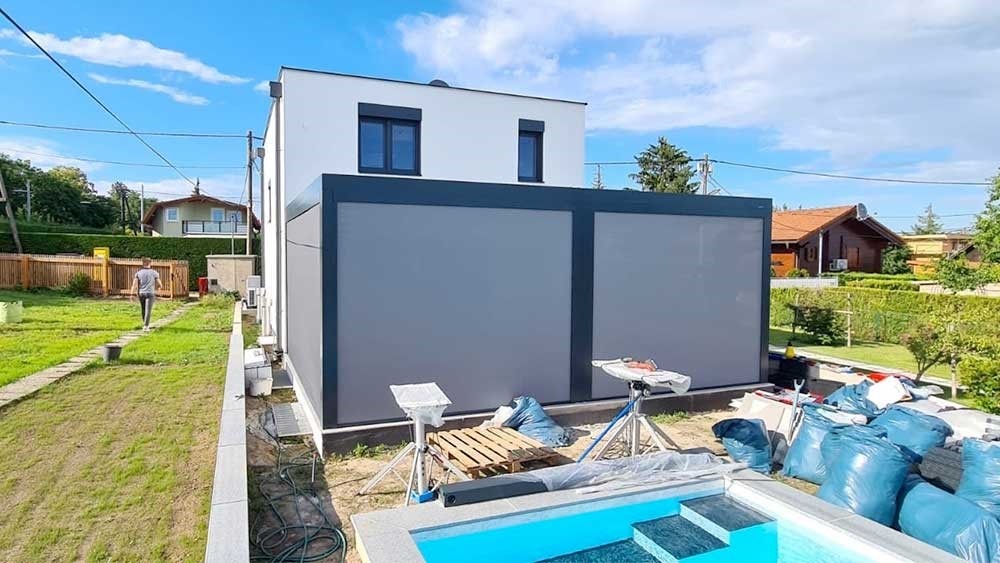 Not all of the examples here are shown in their final iteration, too, that's why this pergola from Slovenia stands in the middle of what essentially looks like a small construction site. This grey pergola is also interesting because it utilizes the additional side covers of a pergola agava to protect everything under the pergola from both the weather and the possible construction debris that may or may not appear in the construction process.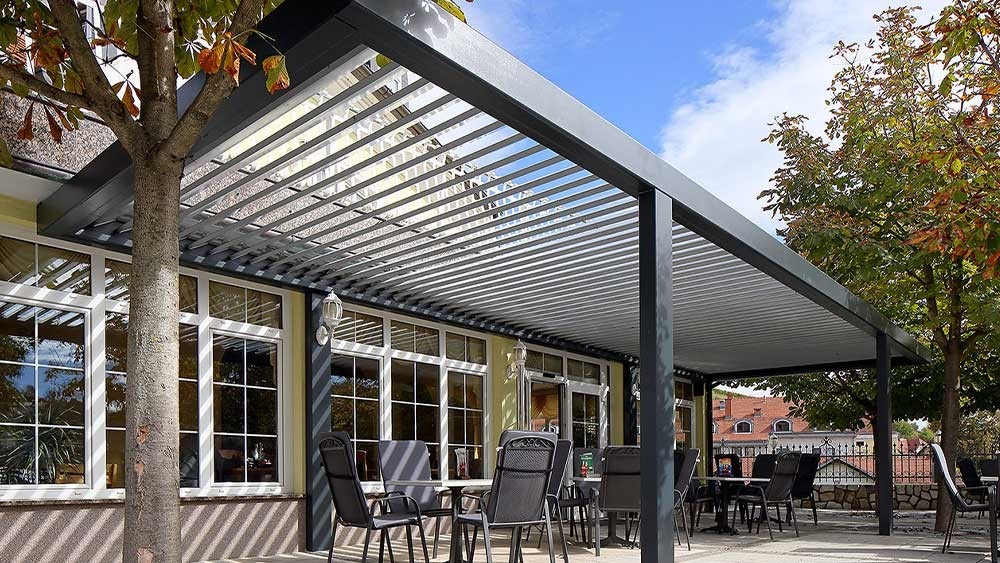 Saying that grey pergolas are only fit for private houses is not true, either, which is cemented by this example from Slovenia. In this case a grey pergola of a relatively big size works as a cover for an outdoor area and is attached to a restaurant, making it obvious who these sitting places belong to. The addition of outdoor sitting areas for restaurants is always welcome, it's basically more sitting places, at the very least – and there are other advantages, as well, for example the ability to lounge in the sunlight while eating your breakfast, or any other example, really.
As it was mentioned before, this natural grey color of a pergola comes from the original material that they're made of – aluminum. Aluminum is a good choice as a pergola material for a number of reasons, including the improved durability, the very nature of aluminum as a material that requires little to no maintenance, and so on.
Of course, the original grey color of a pergola isn't the only option available, you can choose from a variety of different colors when ordering your pergola agava, to find the one particular color that fits your exterior the most.