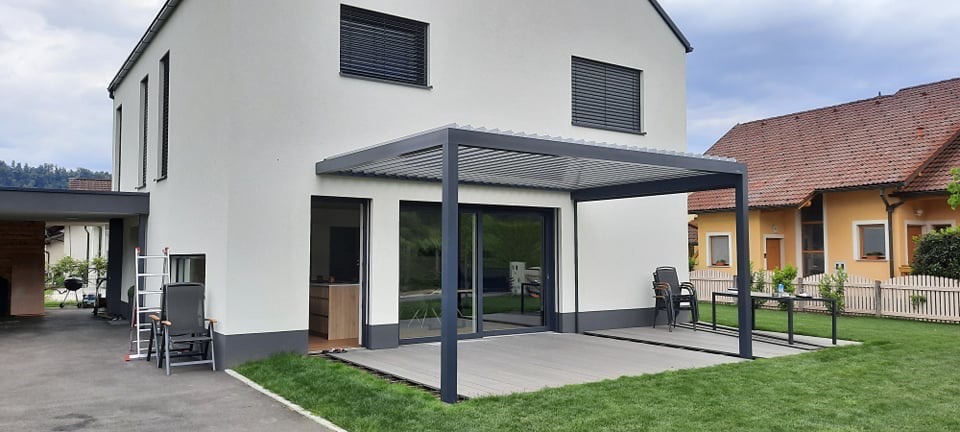 Pergola Cost and Price Models. Pergola Materials Price.
What is a pergola?
A pergola is defined as an outdoor construction that forms a shaded pathway, walkway, or a resting area. It's raised by vertical pillars or posts that support roofing rafters and crossed beams upon which woody vines or timbers are trained. The price for constructing a pergola varies depending on the material, pergola type, location, size, and design.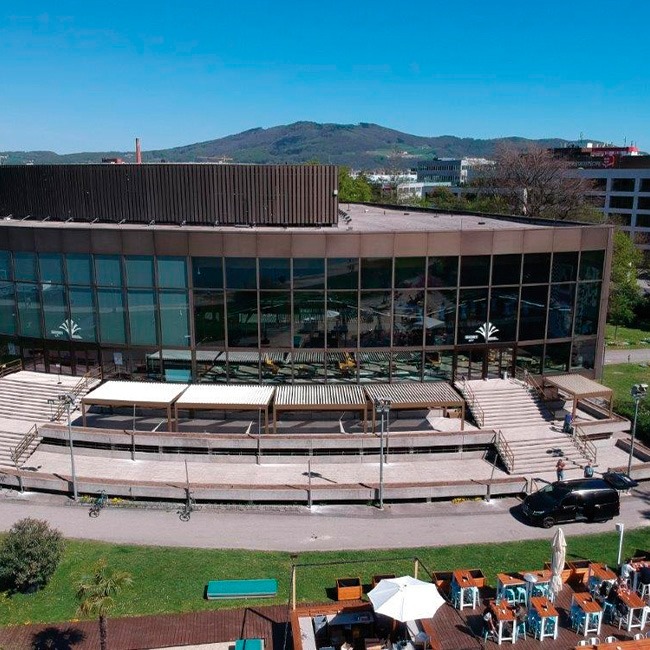 What's the cost for different types of pergola?
There are various types and styles of pergola that you can order, and they vary greatly depending on the cost and your personal preferences. For example:
Sail pergola
Sail pergola is also referred to as sail shades or shade sail. It consists of a big sail suspended on various posts or poles forming all kinds of designs or shapes. It is mainly used for outdoor shading. Sail pergola requires approximately €5,300 to €7,100 to install, although the price can go up to €26,600 due to the size or material requirements.
Pitched pergola
Pitched pergola's biggest difference when compared to other pergola types is the roof. That roof is usually pitched or pending at a certain angle to allow water runoff. This design also allows the modelling of various shapes on the same roof. This pergola usually costs between €8,800 to €22,100 due to a closed wooden roof.
Solar power pergola
Solar power pergola refers to a simple pergola that has solar panels instead of polycarbonate panels or battens as the roof material. It is quite expensive in terms of roofing due to the sole fact of solar panels being used. You'll need from €7,100 to €22,100 to install this type of pergola, although some are less expensive if you're using aluminum materials for construction.
Gabled pergola
Gabled pergolas are characterized by their specific roofing design. You can easily recognize them due to their triangle-shaped roof. Their installation cost ranges between €2,200 and €6,200.

Open top pergola
Open top pergolas refer to a type of pergola without cladding of the roof. They are used mostly for decorations of the outdoor section for better appearance and anaesthetic value. Its opened roof allows proper air circulation in and out of the pergola.
The total cost of constructing a 10 foot by 10 foot pergola ranges between €2,600 and €7,100 depending on the type of materials available for installation.
Steel pergola
Steel pergola is more substantial and durable since it is made or constructed using actual steel. A lot of customers find it to be much more beautiful than the wooden pergolas. It's also quite affordable, with overall building costs being from €1,300 to €6,200.

Simple wood pergola
The simple wood pergola is the easiest and probably the most affordable pergola design, although the price may vary depending on the construction materials. Generally speaking, a 10 foot by 12 foot pergola would cost approximately €1,100.
Trapezoid pergola
This design takes a trapezoid shape and requires experienced contractors to develop. The primary material used for construction is cedar and redwood. This pergola costs approximately €2,200 to create the whole structure.
What is the difference in pergola cost when different materials are used?
Fiberglass
Fiberglass is the most common pergola construction material, especially for homeowners. As a material it is quite durable and requires little to no maintenance, but it also costs a substantial amount of money, starting from €50 per foot.
Metal
Metal is one of the most recommended materials for pergola construction efforts. Unfortunately, so far it's less popular than wood. It is a material that's long-lasting and resistant to water, preventing it from rusting for a long time. Metal in general is also resistant to changing weather conditions.
Metal is also surprisingly affordable when compared with wood, it starts from €9-18 per foot, depending on the general metal quality. At the same time, using steel or galvanized metal would cost you around €27 per 5 cm by 5 cm square.

Wood
Wood or timber might be the most flexible pergola construction material that can give you a relaxing, good-looking and functional outdoor experience at the same time. There are several types of wood that you can use, like pine, cedar, ipe, teak, or redwood. Wood is a material that bends easily, allowing for a lot of different styles since it is so easy to cut and put together different wood pieces.
You can get this material at €18 to €48 a foot, depending on the type. For example, pine costs between €22 to €31 per foot, cedar runs at €22 to €31 a foot, and redwood costs range from €35 to €44 per foot. However, there are several specialized kinds of wood, such as teak and ipe, that are more expensive. The pergolas from them cost approximately €48 and more per foot.
Aluminum
Aluminum is silvery white metal that is a good choice for the construction of pergola. Some of its advantages include the natural elements' resistance, relatively low building and maintenance costs. Also, aluminum does not limit you in terms of color choices since you can paint it with your favorable color after the construction is complete. Depending on the style, this pergola costs as low as from €9 to €18 per foot.
Polyvinyl chloride (PVC)
PVC is a plastic material that's suitable for the pergola construction efforts since it is resistant to changing weather conditions. It also requires less efforts to install, and there's a variety of colors such as timber-like, yellow, white, etc. depending on your color preferences. This pergola price ranges between €9 to €22 per foot.
Alumawood
Alumawood is a processed and painted aluminum material, which is molded so that it resembles wood materials. It is thin and resistant to weather conditions, although its colors fade off after some time. This pergola is relatively cheap, with the price range from €9 to €18 per foot.

Concrete
Dry concrete can be used for the installation and decoration of a sitting place in your pergola. Its price varies depending on the size of your pergola, but approximate prices run between €2,9 to €4,6 per square feet.
What is the total average сost of different pergola materials?
The cost of pergola varies heavily depending on construction materials. For example, fiberglass is the most expensive pergola construction material with an average price of €5,300 per 10-foot structure.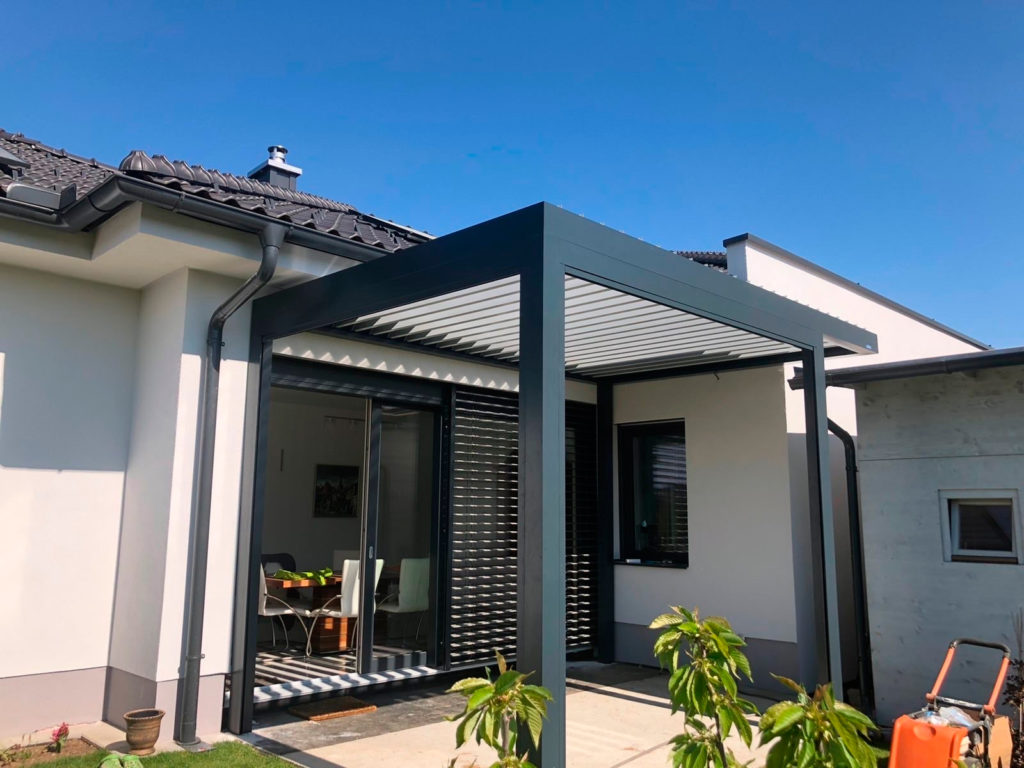 Specialized woods, ipe, and teak are tied in for the second place in the most expensive pergola materials list with an average price of €4,800 per 10-foot pergola. Redwood's average cost is about €4,000, pine costs roughly €2,200, and aluminum price €1,700 per standard 10-foot pergola. At the same time, alum wood is the cheapest one with an average price of €1,300 per 10 foot.
What is the average cost of pergola installation?
The cost of building a pergola at your homestead varies greatly depending on the size, style, and the construction material you've chosen. Here's the overview of the price list for pergolas grouped in different levels as follows.
The average cost at the national level is €3,100.
The maximum cost is about €8,800.
The minimum coast is somewhere near €1,700.
The labor cost for the pergola installation
The labor costs for the pergola installation vary a lot depending on the style, design, materials, and size. A simple 10 by 10 feet pergola requires approximately €440 without further customization.
However, any advancements and customization, like slats or a back wall, can potentially increase the labor costs up to €880. Also, a full roofing package that provides approximately 90% shade, could easily double the overall labor costs.
You can also build a fully customized pergola by yourself, potentially saving the labor costs. Construction kits that you can assemble yourself usually cost approximately €1,700. You can also save up to €880 on labor through the construction of a wooden pergola that would cost you around €2,500 otherwise.
What's the price for improving or enhancing your pergola?
Design customization
Custom designs that you may install on your pergola include back wall, shades, windbreak, and custom shapes. The cost of custom pergola designs varies depending on the construction materials. Usually the customization prices are around €4,400 to €5,300 per 10 by 10-foot pergola structure.
Curved edges
You can have a curved pergola, too, although the most common pergola design is a square or a rectangular in shape. Curved pergola requires around €5,000 to complete the entire project.

Sail shades roofs
Stretching shades to existing slats are one of the conventional designs to enhance or improve the appearance of your pergola, but you'll have to add approximately €44 to €170 for clothing materials.
Gables
The addition of gables on your pergola roofs creates a kind of a hybrid pergola, but it's also really expensive, going up to €6,200 per one pergola.
The cost of constructing a DIY pergola
DIY Pergola refers to a pergola built or designed over existing structures. The cost of construction material varies depending on the preferable size of your pergola. For example, a 12 by 12-foot vinyl pergola kit costs around €2,200 and a 10 by 10 kit costs approximately €1300.
You don't need a lot of people to install a DIY Pergola, too – a team of two people is more than enough, and it reduces your labor costs. Generally speaking, the entire installation of a wooden DIY pergola will cost you up to €2,700 from the ground up.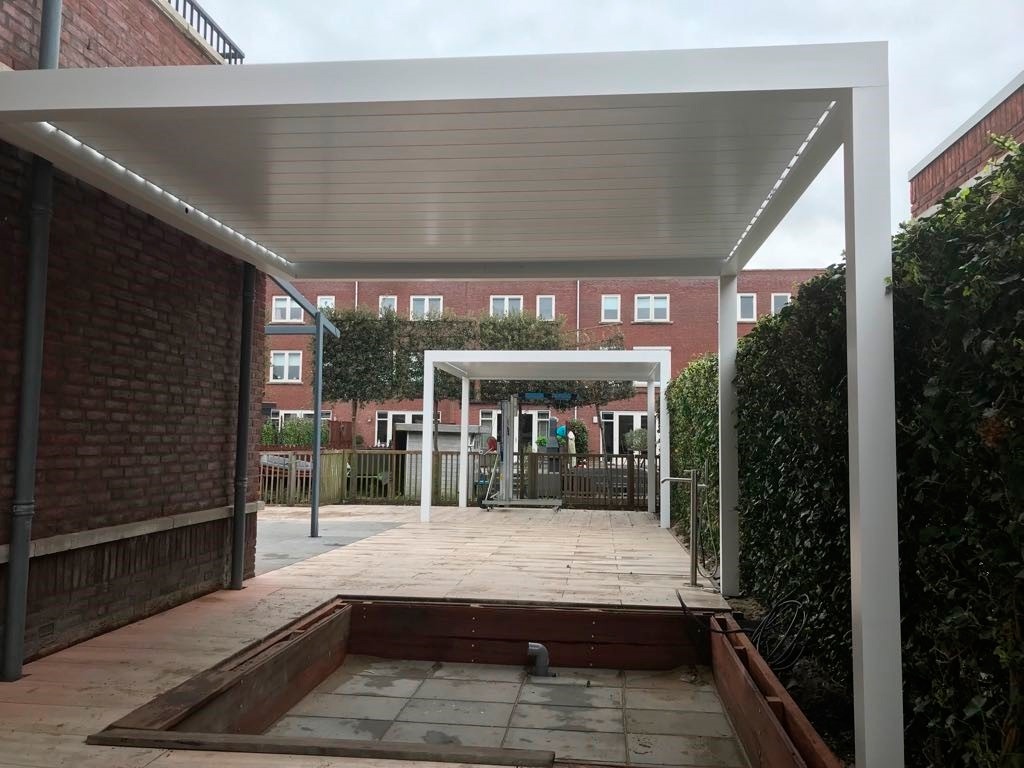 The pergola cost if built by a professional
Hiring professionals to construct your pergola would increase your overall pergola price but should save you some time. If you need a more outstanding pergola, go for professional contractors, but be sure to pay highly.
For example, constructing a 10 by 10-foot structure, the work itself is about €400 and materials cost around €2,600. Or a 12 by 12-foot structure that costs between €660 to €880 for work and about €4,400 for construction materials. Of course, the price would increase if you're using high-end materials that cost a lot of money.
The costs of performing maintenance or repair jobs to your pergola
Maintenance of your pergola increases its lifespan, reducing the potential costs for repairing or replacing it. You can also maintain your outdoor pergola by using a hose with high-pressure water on it.
You are also supposed to buy specific tools for cleaning your Pergola, like detergent and brush with bristles. Be sure to remove any wood splinters or pieces of paint peeling off from the pergola during the cleaning. It's also important to remember that your pergola might have a specific way of cleaning it, and it's specified by the manufacturer.
Mildew and stains are among the most dangerous things that might affect the appearance of your pergola. Therefore, make sure to buy oxygen bleaches to remove corrosive fasteners, especially when it comes to wooden pergolas.
You should consider purchasing a repair kit or some other touch up equipment to repair or perform maintenance of the damaged areas. The same equipment can also be used to repaint peeled off paint parts.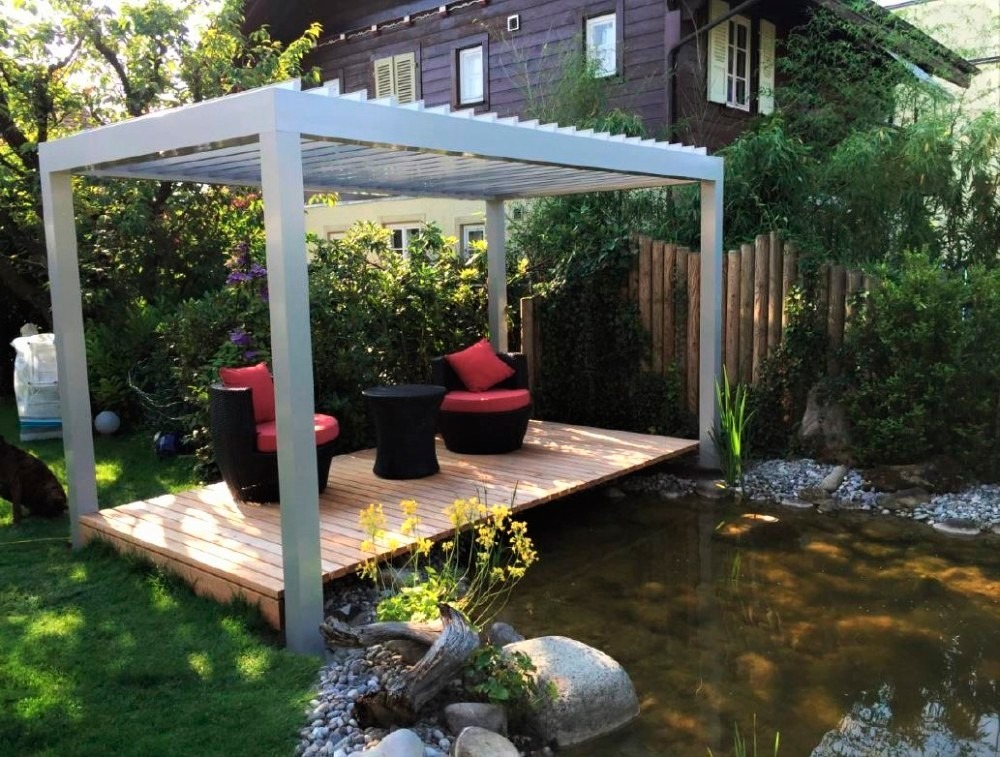 Additional pergola costs and other things to consider
Constructing your pergola using wood as a material requires extra spendings to protect the wood from stains and seal it, preventing it from rotting or insect attacks. Remember that only redwood and cedar woods are resistant to these kinds of problems.
Be sure to secure construction permits in areas that require them if you want to avoid adding fines to your overall pergola cost.
Choose a suitable pergola size depending on the size of your compound to leave enough space for other activities. This can also prevent the demolition of the structure due to the limited space in the compound.
Use existing spaces to save the cost of pouring patio foundations for your pergola to save some of the building money.
Extra spendings may be required when constructing your pergola on uneven or old deck grounds.
You can construct your pergola off season to save a bit on the installation costs as long as the weather conditions are favorable.