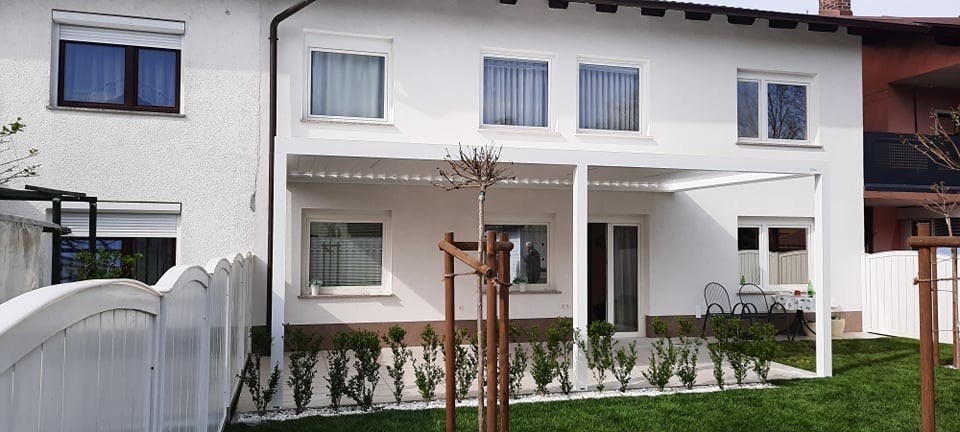 Top 10 Outdoor Backyard Pergola Ideas & Designs
While pergola itself might seem like an ordinary structure, there are a plethora of different designs and ideas that turn this simple construction into something else entirely, from an extension to your living room to a separated outdoor recreational area.
In this context we're presenting to you top 10 backyard pergola ideas, each of them with various unique characteristics and purposes.
Wood & glass panels pergola. Our first example is a strong start in the original pergola category. This one is outfitted with additional wooden sliding panels and glass panels, including a glass door. All of the elements complement the architecture of the house.

Poolside pergola. This outside pergola is a bit more simple as an idea. The long and short of it is that it's just a regular pergola placed near the pool. The physical closeness to the water makes it a good resting area after taking a swim, with all the regular pergola advantages.

Hybrid backyard pergola. Another way of modifying your regular pergola is to mix it up with some other type of outdoor construction. This case shows us a gazebo-pergola hybrid that takes the most out of both of them: a dedicated platform with railings and a free access to the fresh air for everyone inside of this structure.

Lighted outdoor pergola. Getting back to the concept of attached pergolas, this example is one of them, featuring at least two of the walls being almost completely solid, thus making it more like a segregated recreational area, and there's also LED lighting, making it a perfect place for late night meals under the sky.

Mirror pergola. On the topic of mirrors and additions to your pergola, this type of patio pergola takes advantage of the facade of the object, creating a very modern look and a visual effect of there being 2 pergolas and larger terrace.

Bar pergola. Another way of looking at pergola is to lean more towards recreating specific areas that you couldn't fit indoors for some reason. This outdoor restaurant, for example, fits perfectly under a pergola, and there's almost everything you need in it, including lighting, chairs, tables and so on.

Pristine white pergola. There's a lot you can do with a regular pergola setup, as well. Our example below focuses on every part of the house and pergola being the same white color, making the entire area look pristine and otherworldly. A white fireplace would also adds to the overall charm, as well.

Passageway pergola. There's also some usage from a pergola even outside of the typical recreational purpose. It's possible to use it as a sort of a passageway that can be paved with anything from wood to stone, and you can both control the frequency of the roof beams and the level of protection that this pergola's walls can provide you with.

Big pergola. The thing is, most pergolas have standard sizes that fit most of the use cases. But custom pergolas can be much bigger than that, and you can do a lot with a bigger pergola, including a bigger extension of your indoor living space, a bigger freedom to use more furniture to outfit your pergola, and so on.

Long pergola. On the topic of bigger pergolas, you don't have to make them square or rectangular, too. Another option is to make it as long as the entire side of your house. This allows for both the regular pergola usage, like an outdoor attached recreational area, and boasts the additional space covered by this pergola, too.

As you can see, there's plenty of different outdoor pergola designs out there, much more than these 10. With that much of a choice in the customization of bioclimatic pergola Agava it's not hard to find something that works for you the best.